Erm, about the change of photo in the profile from the crabby old bag version to the fancy-antsy one.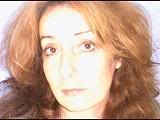 Yup, that one.
About that.
Well.
See, if you are quick the very lovely Mr Tino Buntic is creating a page linking to just 2,000 bloggers; all just for the fun of it, and the way to get onto the page is to run over to his blog and ask;
here
.
The only thing he asks is that your blog has a photo of you on it somewhere that he can snaffle to add to
this lot
.
Well now, I ask you, a girl has to powder her nose, yes?