Dear
Big Brother
(or is it
Endemol
?*)
You are
running out of celebrities
this year, it seems. (
1
,
2
,
3
)
It looks like someone too influential forgot that ordinary people like to gawp at celebrities being flawed and human, not caged and humiliated. OK perhaps theres a niche market for that, but niche is the word.
It seems that the big whip (or perhaps the new broom), in the blindly aggressive drive to imagine completely new twists and hooks to the whole experience, has got poor desperate ideas people (ideas kiddies I suspect) scraping the bottom of the barrel. Reminds me of
Letitia Cropley
's masterpieces, always with a new yet horrifying twist.
Anyway, having slagged you all off, I'm not proud, so,
can I play
?
I know you might be looking for a bloke or two, but in my defence,
* I am 45 (average in the house this year)
* I am currently
fat and I snore, like Ken
* I am on tablets, and
fart like Jackiey
(well, no, I'm pretty damn certain they're not the
same
tablets, but still)
* I am
opinionated like Carole
* As
yabbering
, wild haired, aggravating and stubborn
as Leo
* As
crude
, sarcastic and um, individual
as Donny
*
Added extra
: I am between sizes in my cheap jeans and only have the two pair, so walk around either cut in half by the smaller pair, or constantly heaving the larger ones back up a la building-site-worker. Its a farce.
To top it all
if fake pseudocelebrity is a must, I could convincingly pretend to be
Griff Rhys Jones
' secret, institutionalised half-sister....
or
Russell Brand
's mum.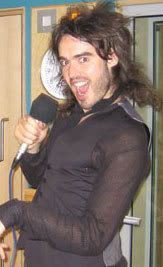 (Actually now I think about it the two cover stories are not mutually exclusive and could run together).
So, are we game?
Yes?
Hello?
*Or rather, so new they can't even sort the website, 'Brighter Pictures'.