Hi, my name is Ben and I will be blogging today because, as you can tell from the recent silence, Mistress is otherwise occupied.
I live with my brother Jerry and have to admit that yes, we were named after a brand of ice cream, but he lives up to the name for both of us, the tub of lard that he is. You want (correction, don't want) to see him with half a fig roll or a garibaldi biscuit; he is avarice personified.
For myself, well, not to be boastful, I do seem to live up to another sort of namesake, specifically Ben the
super genius leader of the rats
.
So, just to finish the introductions, here I am: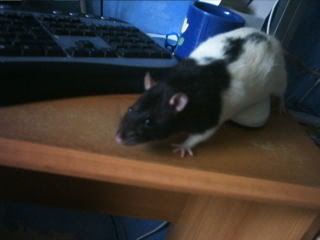 but I'm just going to have a spot of tea, if you don't mind
before getting back to the job at hand.
Have a nice weekend.